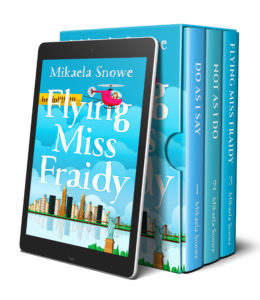 What an exciting week!  First the cover reveal for the standalone Christmas novella, Santa's Eve (more on that here).  And of course, I'm busy putting the finishing touches on Temp-Ing Fate, the fourth book in the Career Misfits Clean Romantic Comedy Series.  The good people at Damonza are hard at work on the cover for that one, so expect news soon.  And now . . . today we launched the first box set!  This first box set includes
Do As I Say (Book 1) – Justine Tyme navigates the perils of being an organizational guru at a troubled newspaper on the point of closing while struggling with adulting and her attraction for her new boss.
Not As I Do (Book 2) – Juliet prefers to stay behind the scenes, crunching the numbers at her mother's wedding business in the Florida Keys.  But when her old friend Cyril shows up to the wedding she's forced to run, she finds love doesn't fit on a spreadsheet.  (This book is a love letter to introverts everywhere!)
Flying Miss Fraidy (Book 3) – When Alette accepts a job at a news station in Manhattan, she learns that it involves flying in the traffic helicopter.  One problem – she's afraid of heights!  But when her ex makes a play for her job, she's going to have all of New York watching her fight to save a career she's not even sure she wants.
Of course, the books can all be read in any order.  To snag your copy of all three books, click here.